About me and costing information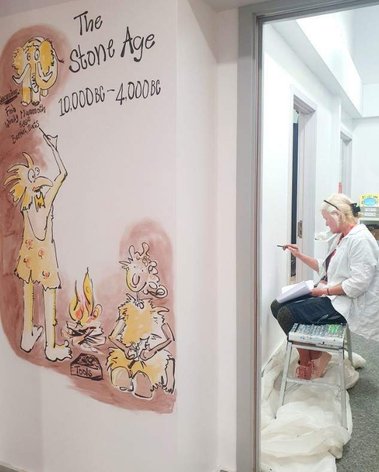 Hello and welcome to my website.
I design and paint educational pieces of wall Art in Primary schools. In my portfolio you'll find a range of styles which are designed to suit specific areas of study within the Primary School curriculum. I've worked in schools throughout London for the past decade. Happy to say that I'm now back in my home town, Bingley and looking forward to transforming the walls of West Yorkshire Primary Schools.



Each mural is unique and completely hand drawn and painted using high quality materials and finished with a protective varnish. Whether it's Geography, History, Science or a 'school values' mural to cheer up your reception desk, I'm sure you'll find something that inspires you.
How it works - Initially, we can chat via email or telephone but it's usual for me to visit the school so that I can view the space you're thinking about and we can discuss your ideas. This way, I'm able to get a feel for the overall look that you're imagining.
In most cases, I will produce a preparatory sketch together with a cost for you. For the Timelines and Geography walls I require a brief list of the topics you'd like to cover and the style of mural you're most interested in.
Each mural is costed as a whole project, including materials and prep drawings. If it takes a little longer than expected, the cost remains the same. Every project is different and costing is dependent on many factors such as style, content and size. As a rough guide, most projects take anywhere between one and five weeks to complete. The cost starts upwards of £1500.
If there's an image that caught your eye in my portfolio and you can get an approximate area measurement to me, I'll get an estimate back to you. Photos of the walls are very useful too. I'm more than happy to pay you a 'no obligation' visit to discuss your ideas.

Thank you for taking the time to browse my work. I hope you enjoy the photo and video galleries and please do get in touch.....the magic starts here!

A recent podcast produced by The Haringey Education Partnership, London can be seen and listened to here. It features an interview about my Timeline work together with blogpost and images of Geography and History murals.
https://haringeyeducationpartnership.co.uk/blog/2022/12/22/murals-and-the-curriculum-using-art-to-understand-the-world-around-us-with-sally-newton/

Other info:
I have an up to date DBS certificate and I am covered with public liability insurance.
I can provide excellent testimonials/references on request.


Logistics- I work throughout the school year and during some holidays. Painting in a school Hall, corridor or stairwell hasn't proved as tricky as it might sound. I can work with the minimum amount of equipment quite easily and it's always such a positive experience for the children. They become fascinated by the development each day and are always full of questions!
Covid - Being a lone worker, I have been lucky enough to continue and complete my planned projects throughout the Pandemic. I've worked with Headteachers and site managers to ensure that all the necessary measures have been put in place to enable the work to go ahead safely. If you have any concerns regarding a mural commission under the current circumstances, please don't hesitate to get in touch to discuss.


Background - I grew up in Bradford where I gained a first in Fine Art. I moved to London in 2012 and began teaching as an Art specialist for KS1 and KS2. I now focus all of my working time on school murals and my own studio practice.